Laptop Brands We Service
We repair most Dell models such as Inspiron, Latitude, Precision, Studio, Vostro, XPS, Studio XPS, Alienware, Andamo & more.
We repair most Apple models such as Macbook, Macbook Pro & more.
We service most HP models such as Pavilion, Spectre, 2000-Series, ENVY, EliteBook, ProBook, Folio, Compaq & more.
We repair most Sony VAIO models such as E Series, F Series, S Series, T Series, Z Series, DUO & more.
We service most Toshiba models such as Satellite, Qosmio, Protégé, Tecra & more.
We repair most Acer models such as Aspire, Aspire One, Extensa, Ferrari, Ferrari One, TravelMate & more.
We service most Asus models such as B Series, G Series, K Series, N Series, P Series, U Series, X Series, VivoBook, Zenbook, Eee, & more.
We repair most Gateway models of Netbooks and Notebooks. (Too many to list individually)
We service most Samsung models such as Series 3, 5, 7, 9, ChromeBook & more.
We repair most Lenovo models such as ThinkPad, IdeaPad, Essential, 3000 Series, Series B, E, G, K, N, V & more.
Laptop Screen Repair Service
We offer the fastest turnaround time available in Rhode Island for laptop screen repair!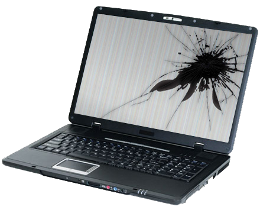 Don't feel bad, cracked and broken laptop screens happen all the time, and incidentally, we fix them all the time!
We offer the convenience of pickup & dropoff of your laptop right at your home or business so you don't have to waste your time and gas driving to a shop. Plus, no other local company can match our fast turn around time, and most other companies take twice as long as we do!
Is my screen even worth fixing? Should I just buy a new laptop?
Before you go out and buy a new laptop, call us to at least see how much it will cost. Most of the time it is definitely worth fixing the broken screen. Many people think the cost to replace a screen is almost as much as a new laptop. This is definitely not true. The cost to replace the screen is normally only a fraction of the cost for a new laptop. You'll never know what it costs until you ask. Give us a call and we'll give you a free estimate.
How long does it take to repair?
Our average turn around time is only 2 to 3 days, and we pick it up for you and drop it off once it's done! Most shops take an average of 5 or more days to complete the repair, so our turn around time is unmatched in the industry!
Call us at 401-424-1233 to get a free quote.